Are you planning a summer adventure in Portland, Oregon?
Look no further than First Nature, the premier destination management company that combines adventure with luxury. Using our expertise in custom luxury experiences, we've put together a packing guide on how to best prepare for your summer adventures, from outdoor exploration to cultural experiences.
Here's everything you need to know to best prepare for an amazing summer expedition with First Nature Tours.
Comfortable Outdoor Gear: Portland and its surrounding area offers a plethora of outdoor activities. Make sure to pack comfortable and versatile gear such as hiking shoes, lightweight clothing, a waterproof outer layer,  and moisture-wicking socks are essential.
Sun Protection: A sun hat, sunglasses, and sunscreen are other must-haves even up north, even if it's cloudy!
Daypack and Essentials: Your daypack should be spacious enough to include all the essentials from a reusable water bottle and snacks to a camera to binoculars for birdwatching. A portable charger is handy to keep your electronic devices powered up, ensuring you capture every stunning moment. If you have one, a travel mug is great to have to test the many roasters in town and have your cup of joe on those early morning van rides to the mountains.
Layers for Changing Weather: Because Portland's weather can be unpredictable, it's wise to pack t-shirts, long-sleeve shirts, light sweaters, and a jacket to be prepared for all temperature fluctuations. 
Swimwear and a Towel: Pack swimwear and a travel towel (or ask your hotel!) so you can get the most enjoyment out of Portland's variety of waterways from the Columbia River Gorge, nearby lakes, or the Oregon Coast.

Travel Documents and Personal Items: Keep your travel documents, identification, passport (if required), and personal essentials such as medication and toiletries on hand so they're easily accessible when needed.
"Fancier" Outfit: Though not required, Portland has some of the hottest food and bars on the West Coast with multiple James Beard Award Winners for you to check out and enjoy!
Walking Shoes: We recommend a good pair of sneakers for city tours to the wineries so you're always comfortable while on the go! These can be hiking sneakers or a separate pair of walking sandals – whatever you can walk miles in, we recommend!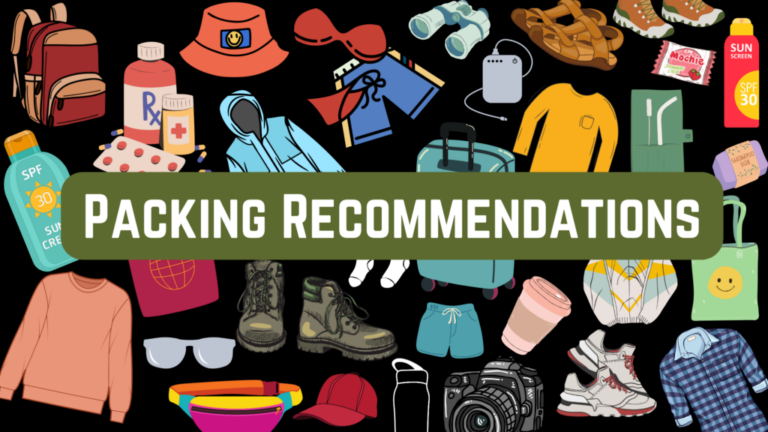 With First Nature, your summer adventures in Portland will be remarkable. Prepare to immerse yourself in the Pacific Northwest's beauty and cultural wonders, enjoying everything from lush hiking trails to thrilling water activities. This is a basics packing list, when you book with First Nature you're booking with a personalized travel consultant and guide who will answer all of your questions on what to bring and what will be provided so you can save space in your suitcase for local handicrafts, brews, and more! 
All images in this blog were created on CanvaPro with their copyright permissions